How to build sustainable food systems? A manual from UN FAO and INRAE -including Open Food Network's role!
"Enabling sustainable food systems – Innovators' handbook" was published in October 2020 by the Food and Agriculture Organization of the United Nations (FAO) and the National Research Institute for Agriculture, Food and Environment(INRAE). Discover this very rich document full of advice for those seeking to build more sustainable food systems. It highlights the role Open Food Network plays in building resilient supply networks. 
A manual for those involved in food transitions
The COVID 19 crisis demonstrated the resilience of local food systems, and highlighted that building sustainable food systems is an essential part of the response to food, social and ecological crises.
This FAO and INRAE ​​manual is a compendium of experiences and advice resulting from 7 years of work. It's designed for practical use and easy to navigate, as it's arranged by the different themes and areas of action around food.
This excerpt from the introduction provides a better understanding of who this manual is intended for and its purpose: "This handbook aims to help those actors – people we call food system innovators – who are actively experimenting in (re)valuing agriculture in sustainable food systems, i.e. changing the way we produce, transform, transport, store, sell, and consume our food and agricultural products. In the authors' experiences, these actors can be farmers, researchers, traders, consumer groups, committed individual consumers, NGOs, local-level officials, among many others.
This handbook provides advice in the form of tips, checklists, and matrices that will help local food system innovators to think more strategically about the opportunities that may exist around them. It uses examples written by food systems innovators who have assessed each approach. They aim to inspire the reader to test (or to avoid, or to adapt) a solution to the problem they are facing. Written in easily accessible, informal language, it provides hints on identifying opportunities to innovate while emphasizing low-cost, feasible solutions for developing countries."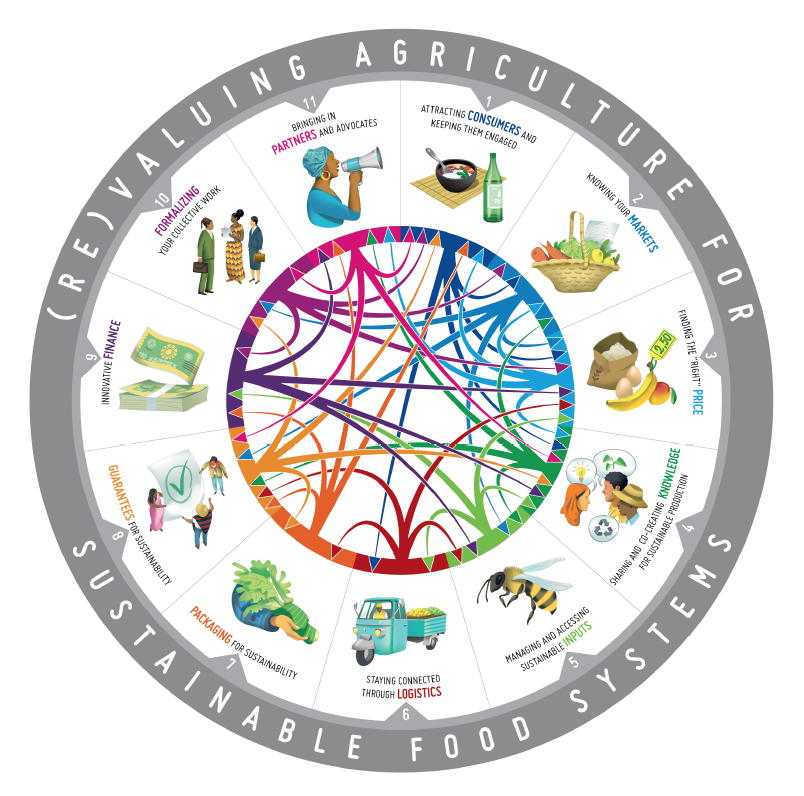 Contents of the handbook:
ENGAGING CONSUMERS
Attracting consumers and keeping them engaged
Knowing your markets
Finding the "right" price
PRODUCING SUSTAINABLY
Sharing and co-creating knowledge for sustainable production
Managing and accessing sustainable inputs
GETTING PRODUCTS TO MARKET
Staying connected through logistics
Packaging for sustainability
Guarantees for sustainability
GETTING ORGANIZED
Innovative finance
Formalizing your collective work
Bringing in partners and advocates
Presentation of the Open Food Network: a shared digital infrastructure to support the development of

a resilient local food economy
We are proud that the Open Food Network is highlighted in the Handbook, as part of the 'Knowing your markets' section. The case study highlights the Open Food Network story, and how our open source platform builds food economies.
It's a good opportunity to sum up who we are and what we create together : the Open Food Network is made up of non-profit organizations in more than twenty countries around the world. We are pooling the construction of a digital infrastructure under a free license to facilitate the management of local food supply. This allows food system actors (producers or producer organizations, consumers, etc.) to regain control of the economic exchange loops, and thus bring producers and consumers together, restore economic justice to exchanges, distribute better quality products at a fair price.
Open Food Network is a global and diverse community of food stakeholders in which we co-build and share our tools and know-how. We're together, and that makes us stronger.
The handbook is available in English, French and Spanish.
Download it here : http://www.fao.org/policy-support/tools-and-publications/resources-details/fr/c/1308923/